Bright Futures Internship Scholarship Fund
About the Bright Futures Internship
The Bright Futures Internship Scholarship Fund was launched in 2009 by the University Career Center & The President's Promise. The fund provides University of Maryland undergraduate students with need-based scholarships to help offset expenses associated with participating in an unpaid internship.
Internships are essential to the University of Maryland experience, allowing students to apply classroom theory to real-world work settings. Once considered a luxury, internships have become a necessity for our undergraduates, given the current labor market. Employers increasingly expect to see work-related experience in their new hires. A staggering 95 percent of employers said work-related experience is a critical factor in hiring decisions, according to an annual National Association of Colleges and Employers survey. Nearly half of surveyed employers converted their interns into new hires.
Understanding the importance of internships, the University of Maryland set a goal for every undergraduate student to have at least one internship before graduation. This goal can be challenging for students pursuing an unpaid internship, especially if participation in the opportunity imposes additional expenses. To address this problem, the University Career Center & The President's Promise created the Bright Futures initiative. Bright Futures works with our donor community of alumni, parents, and families to provide direct funding to students who might not otherwise have the financial resources to participate in unpaid or low-paid internships. These vital funds give students the chance to take part in essential and transformative opportunities.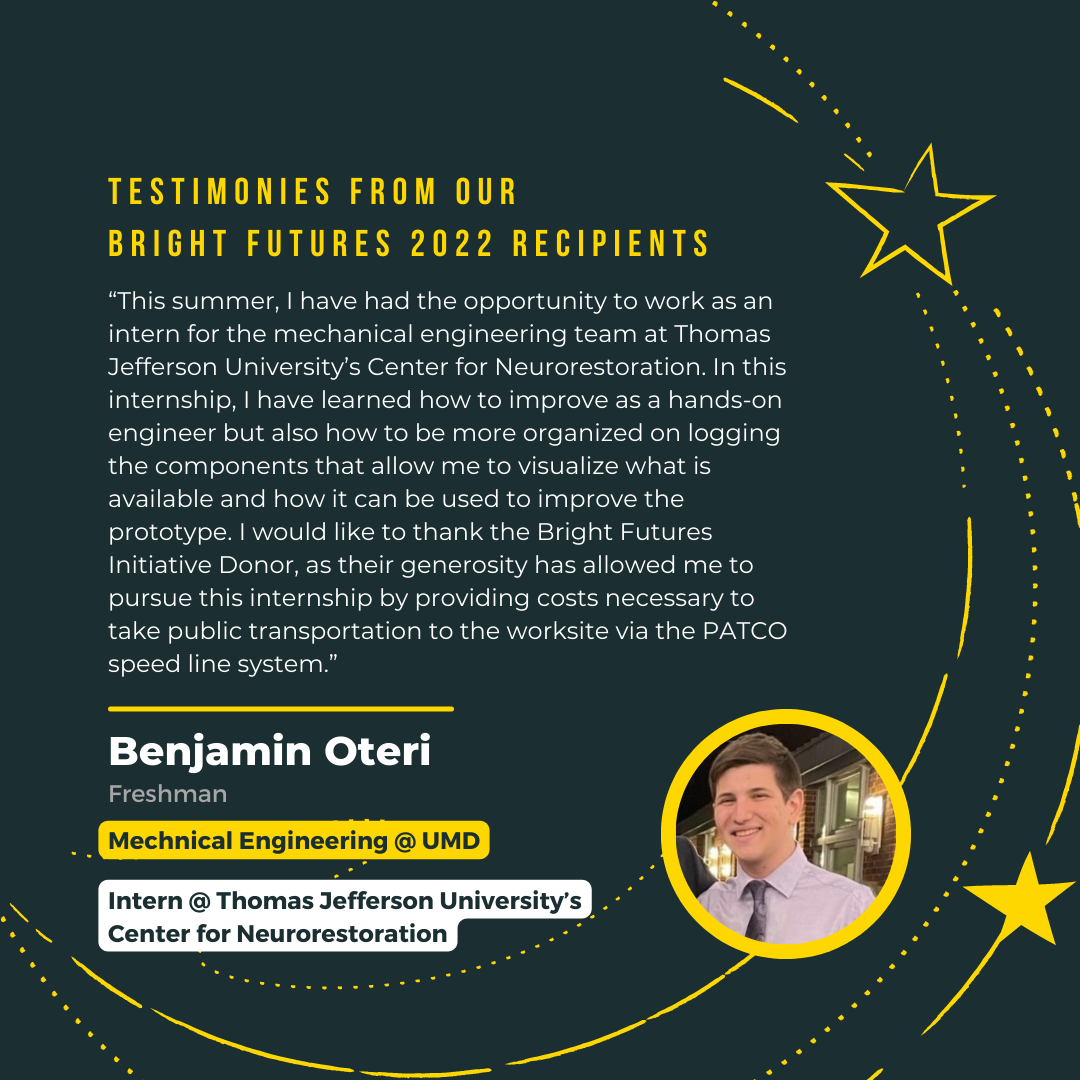 About the Fund
The University Career Center & The President's Promise provides comprehensive career assistance for all students at the University of Maryland, College Park. Designed to support students through each stage of their career development, the Center offers an array of resources, services, and programs that empower students to pursue their ambitions and navigate a meaningful career journey.